25 best budget acoustic guitars in the world today
19th Aug 2013 | 13:00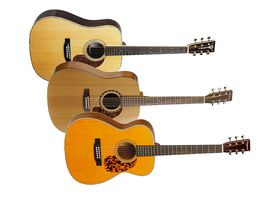 Best of the rest
Generally, when it comes to buying a guitar there are three key factors to consider: how does it sound, how does it look and, perhaps most importantly, how much does it cost?
But even if you've considered all three of those options, visited a hundred guitar shops and read a thousand reviews, there are still a vast amount of guitars out there to choose from.
Undoubtedly one of the most congested areas of the market is for budget acoustic guitars, where there are literally thousands of models and manufacturers to choose from.
That baffling array of choice is why we ran this poll - to give you, the poor acoustic guitarist to be, a chance to see the instruments your peers believe to be the best out there.
Well, we've pored over the results, and we can tell you they've got pretty good taste. This gallery contains the top 25 guitars, the cream of the acoustic crop, and among them there are some truly spectacular guitars on offer, acoustics that punch way above their weight and prove that affordable needn't mean cheap and nasty.
Not only do they all sound great, most - if not all - are easy on the eye, and best of all, they all retail at under £500 / $750. Some of these guitars will make great first instruments, and some will prove to be trusted partners for life - we'd suggest trying as many as possible if you're in the market for an acoustic at the moment.
But these 25 aren't the full story. There were a shedloads of guitars nominated and voted for in this poll, with the top spots hotly contested. Of those that didn't make the cut, the likes of the Tanglewood T15, Seagull Excursion Natural SG and Takamine G220-NS all performed particularly well.
The Simon & Patrick Songsmith, alongside the Freshman FA1DM and the Farida D21CN scored more than a few votes, and the likes of the Norman B12, the Vintage V300 and the Fender CD-100 all gave an excellent account of themselves.
But enough of those that just missed out. Without further ado, here are the best 25 budget acoustic guitars of 2013, as voted for by you. Happy strumming...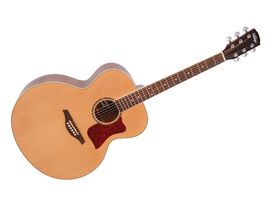 Vintage VJ100N
A spruce-topped jumbo with plenty of projection and an extremely appealing price tag, the VJ100N isn't Vintage's only appearance in this poll.

The manufacturer has been turning out some incredibly likable and a characterful guitars in the last few years, and the VJ100N is another fine addition to the growing ranks of first rate Vintage acoustics.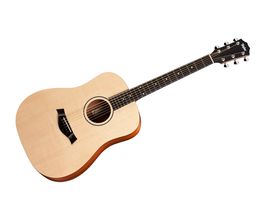 Taylor Big Baby
Taylor is famous for its supremely playable acoustic necks and this model is no exception; in fact, due to its innovative and virtually heel-less design, there's better access to the upper frets with any regular full-body acoustic.
In short, however, this Baby plays like a dream, and when you feel this at home with a guitar you can play anything in any style. Obviously this guitar is not going to sound like a standard Taylor dreadnought; and in fact it's quite surprising to hear how unlike a dreadnought the Big Baby tone is.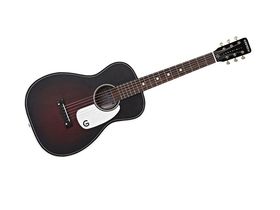 Gretsch G9500 Jim Dandy Flat Top
The new Roots Collection swaps Gretsch's typecast Cadillac-and-Cherry Coke vibe for a down-home pickup truck and moonshine range of acoustics, resonators, mandolins and other folky instruments.
Okay, you're never going to mistake the Jim Dandy for a top-end Martin or Taylor, but it's really good fun to play. You should know that the guitar records very well, too, and it sounds bigger on 'tape' than you'd perhaps imagine.
The well-built Jim Dandy injects some much-needed fun and character into the typically bland entry-level acoustic market. It also reminds us that beyond our shed loads of expensive gear, we should be able to get a tune out of anything. You just know that Mark Knopfler or Joe Bonamassa could pick up a Jim Dandy and make it sing. Well, you can, too - this guitar isn't just for beginners.
BUY: Gretsch G9500 Jim Dandy Flat Top currently available from:
UK: Andertons Music
USA: Sweetwater | Full Compass
FR: Woodbrass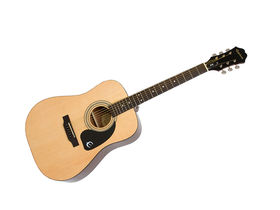 Epiphone DR-100
As you might expect from Epiphone's best selling acoustic, the DR-100 is a budget-minded guitar that dispenses with any extravagances in favour of good old-fashioned playability.
The spruce-topped dreadnought is conceived to be an all-rounder, from those first fumbled chords through to, well, wherever you want to go really. It's built to the usual Epiphone high standards, and it's guaranteed to make most guitars at the same price point look a little bit silly.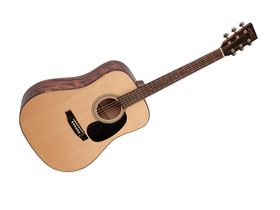 Recording King RD-10
An all-solid dreadnought - that's solid mahogany back and sides and a spruce top as opposed to any nasty old laminates - the RD-10 is a lot of guitar for the money.
And really, that's the point of Recording King, isn't it? It's a brand that's all about old school-style instruments that are built for the modern player, of which the RD-10 is a prime example. That lovely tortoiseshell binding and understated logo and label nicely drive the point home.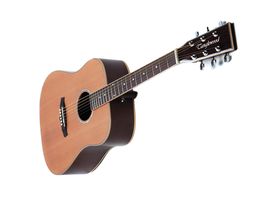 Tanglewood TW28
It seems a tad adolescent to conclude that 'big is best', but in this case there's no getting around the quality on display.
Really, it all boils down to tone. As you'd hope from a dreadnought, the TW28 can belt it out in terms of raw volume, but it really shines when you analyse the more subtle qualities of the sound.
BUY: Tanglewood TW28 currently available from:
UK: Gear4Music
FR: Star's Music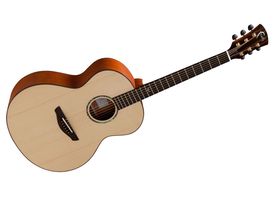 Faith Naked Series Neptune
Money is tight for us all, and last year Faith took the wraps - and quite a bit more - off the straightforward, clearly cost-effective 'Naked' range.
With the Neptune, you're getting a beautifully constructed baby jumbo stripped of every single unnecessary extra. This is a guitar boiled down to its bare essentials, but don't let that turn you off - the Neptune plays like a dream, and while its utilitarian looks won't be for everyone, we're big fans.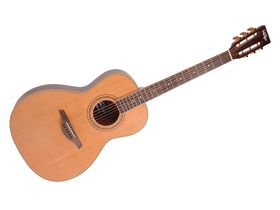 Vintage V880N
Just look at it! The slotted headstock, the herringbone inlays, the vintage style tuners - this a tasteful little acoustic that subtly demands your fullest attention.
There's something about parlour size guitars that makes us want to sit on a sofa and fingerpick the day away, and this would be the guitar to do it with. Mahogany back and sides, a cedar top, and all those little visual details makes this a steal of a guitar for the money.
Make sure you try one, even if you're not necessarily looking for a smaller bodied guitar - this could be the one to make you think again.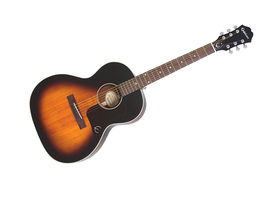 Epiphone EL-00
The EL-00 is the sort of guitar you can imagine being nestled in the hands of a long-dead bluesman, in one of those weirdly formal photos from the '20s.
It certainly looks the part, with its tiny parlour sized body, short scale and sweet sunburst finish. Tailor built for playing the blues, if you've ever had a woman leave you, lost your job or attempted to sell your soul to intersection-dwelling demons, this is the guitar for you.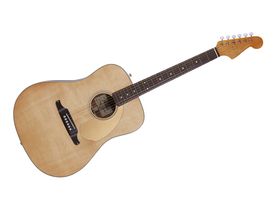 Fender Sonoran
Are you an electric player looking to transition to the acoustic? Or maybe you're simply a person who appreciates style in any context. If that sounds like you, then the Fender Sonoran is the guitar for you.
Rocking that iconic Strat headstock, it makes standard acoustics look conservative. It's full of lovingly conceived little details, from the gently curving 'Viking' bridge to the chequered inlays and white button tuners. A tasty little retro acoustic with style to burn.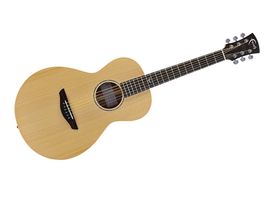 Faith Naked Series Mercury
If the idea behind this Faith was to create a highly affordable, cost-effective guitar, then it's an unqualified success.
But aside from the clean design and impressive attention to detail, this all-solid wood guitar sounds good and plays exceedingly well - especially at the price. If it's sound and playability that you value over unnecessary appointments, this is a very good place to start your search.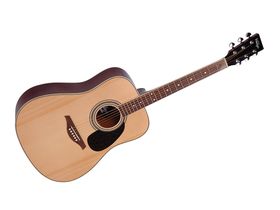 Vintage V400N
That's right, it's another Vintage - are you getting the message about this brand yet?
With three guitars in the top 25 and more models that didn't quite make the cut hovering just outside, one thing is clear: Vintage acoustics have a lot of fans out there.
It's the result of a simple philosophy, of which the central tenet is to build great, affordable guitars that people won't be able to put down - guitars like the V400N.
The most popular Vintage dreadnought in this poll, it's an all-rounder with a nicely balanced tone that you'd be doing a disservice to if you didn't try the next time you're in a guitar shop.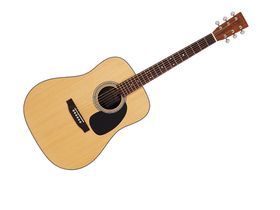 Sigma DR-28
Production of Sigma Guitars, the affordable range launched by Martin in the '70s to keep Japanese competitors at bay, ceased in back 2007.
But the brand was recently purchased from Martin by AMI, a German-based distributor of high-end acoustic and classical guitars, and has since been re-launched. Completing something of a complicated circle, Martin Guitars' UK distributor, Westside Distribution, is now importing Sigma Guitars into the UK, and they're currently causing a big splash among acoustic guitarists - not to mention making a big impact on this very poll.
When pitted against a range of similar and more expensive dreadnoughts, the DR-28 performs remarkably well. Tone is obviously a subjective issue but we'd suggest that you'd struggle to find a 'better sounding' dreadnought at this price point.
BUY: Sigma DR-28 currently available from:
UK: Thomann | Gear4Music
FR: Thomann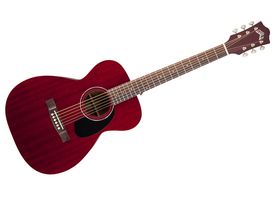 Guild M-120
An all-mahogany gem of a guitar, the concert sized M-120 is a great looking, great playing acoustic that is the perfect partner for folk pickers or singing strummers.
An affordable Guild with a compact body and small neck, it sounds as good as it looks - and it looks good enough to eat. Double thumbs up from us for this little beaut...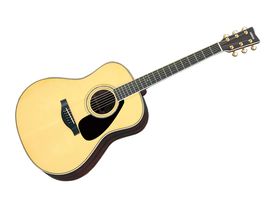 Yamaha LL6
Yamaha's LL series is home to one of its most played and respected acoustics, the LL6.
It's a tasty little number, what with the spruce top, gold hardware and general air of class, with a modified dreadnought shape to help it stand out from the crowd.
It's hovering at the top end of our budget price point - closer to £500 than £150 - but even costing that much, the LL6 is a snip. A guitar for life with a price for 2013 - we'll drink to that.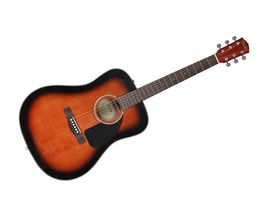 Fender CD-60
It never ceases to amaze us just how high the quality of entry level acoustics is nowadays. Fender's CD-60 is a case in point, a budget guitar with quality to burn.
It's guitars like this - playable, pretty (it's available in a bunch of finishes, and there's even an all-mahogany version on the market now) and great fun to play - that are the foundation of life-long love affairs with the instrument.
It's no real surprise that it's one of Fender's best selling acoustics. It's so well put together, and priced so competitively, that the CD-60 basically sells itself. If you're thinking of dipping a toe in acoustic waters, you could do a lot worse than starting your unplugged strumming with one of these...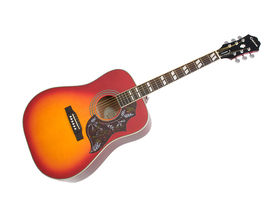 Epiphone Hummingbird
It's got the looks, and considering it's a fraction of the cost of a Gibson Hummingbird, Epi's affordable version has got the tones too.
If you're looking for a bit of that iconic Gibbo mojo but can't stretch to the several thousand pounds said mojo costs, then Epiphone's Hummingbird is an attractive viable alternative.
A great player, with plenty of personality and an admirable attention to the details that have made the Hummingbird an institution among players the world over, we'd be willing to wager that should you find one of these in your hands you'll struggle to put it down.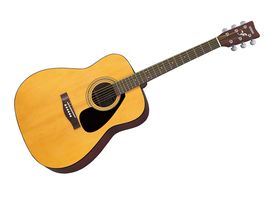 Yamaha F310
The F310 has been proving that affordable guitars can do the business for donkey's years now.
A spruce topped dynamo that punches way about its weight, it's perfect for smaller hands with a slim neck that beginners won't struggle to get to grips with and is built like a tank.
Tonally bright as a button and capable of surprising projection, it's capable of accompanying guitarists on a budget from bedrooms to open mics and beyond.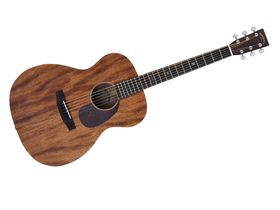 Sigma S000M-15
If you aren't aware of Sigma, you need to become acquainted with the brand, and quick. The narrow-waisted S000M-15 looks, at first glance, like the plainest of Janes.

But in fact, its a player's guitar of the finest calibre. The dark-stained mahogany of the top, back, sides and neck, striped rosewood headstock veneer plus pitch-black ebony fingerboard and bridge offer little instant reward for the eyes.
Spend a little time, with it, and the guitar begins to exude its own special beauty. Should your tastes be for smaller-bodied guitars, or you describe yourself as more picker than strummer, the S000-15 will fit such needs admirably.
It's got enough guts to cut through the sonic melee of an acoustic jam, or will happily accompany a solo voice.
BUY: Sigma S000M-15 currently available from:
UK: Gear4Music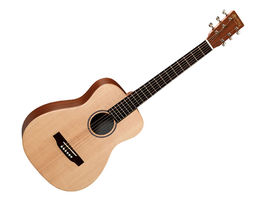 Martin Little Martin LX1
It's no surprise that this plucky little Martin is so high in the list - after all, you might as well rename this guitar the Ed Sheeran.
The ginger fury (as literally nobody calls him) has made the LX1 his own, playing the travel sized acoustic throughout his rise to fame.
Martin has got a signature model on the way (we'd put money on that guitar appearing in future polls), but for now acoustic troubadours looking for the authentic Sheeran experience can plump for the standard LX1.
And really, it's a lot of guitar in a tiny package. Spruce topped, with Martin HPL (that's high pressure laminate, abbreviation fans) back and sides, it projects beautifully and has a wonderfully playable neck.
If you don't mind people asking why you're playing a child's guitar, the LX1 is well worth checking out.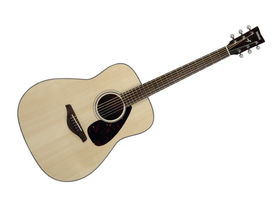 Yamaha FG700S
I'm getting a sense of déjà vu… That's the thing about acoustic guitars – they all tend to look the same.
As such, you might be forgiven for taking one look at the Yamaha FG700S and assume you've already been there, played that and bought the T-shirt.
If there's a more traditional looking model on the market than this entry-level dreadnought, we'll eat our pitch pipes.
No-one's pretending the FG700S looks as wild as your BC Rich, but that's not the point. When you sit down with this model you will soon start to appreciate why it deserves your attention.
This is how playing an acoustic should feel, but so rarely does. It's effortless, despite the fairly hefty body size, and doesn't make you sweat to dig out the (considerable) volume.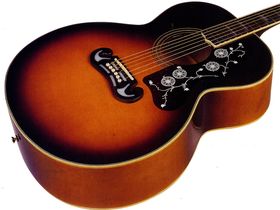 Epiphone EJ200
The EJ200, like its more famous Gibson cousin, has a presence all its own, and that makes it special.
If this were a four figure Gibson J200, we'd be looking for a guitar with a fat, rich bass end; one for strumming, not picking. The Epiphone EJ is tonally better balanced for general playing, with a more even spread of tone across the strings.
The action is lighter and lower than you'd expect from an acoustic, so while this is still a guitar that likes to be strummed, the more even balance means that the Epiphone is good for pickers as well.
In fact, this would make a great guitar for country picking, because the low action and even response make it quite fast. And it's got the look that just makes you want to pick it up and play.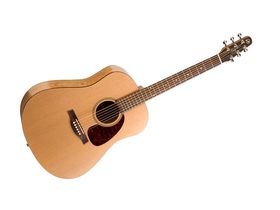 Seagull S6 Original
Distinctive of headstock and sweet of tone, the S6 takes the silver in our poll - and it's not difficult to see why.
Frankly, there aren't many guitars under £500 that make as big an impression as these cedar-topped stunners. Built in Canada to exacting standards, you'd be hard pushed to find many guitars as instantly, effortlessly playable as the S6 for this sort of money.
If you've yet to get your hands on a Seagull, then you're missing out on guitars like this. Simply put, superb instruments than make playing a joy - make sure you put the brand to the top of your must-play list - you won't regret it.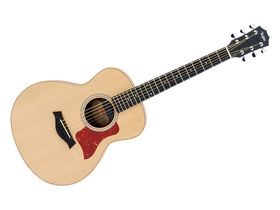 Taylor GS Mini
Aptly titled, the GS Mini is exactly that: a down-sized Taylor GS-shaped acoustic. Built in its Mexican factory (along with the Baby, 100 and 200 series) it was launched in the USA in 2010 and now claims first prize in our budget acoustic guitar poll.
Taylor obviously sees it as a travel guitar, but perhaps their description of a "modern day parlour guitar" is just as accurate.
Beautifully simplistic in design and concept, the GS Mini is much more than just a travel guitar. Yes, it fits that bill perfectly but Taylor's modern day parlour description is more fitting.
This is a guitar with its own vibe and voice - and both are very appealing. Of course, the guitar is compact and built to a price, but Taylor's vast experience in production guitar manufacturing ensures that these 'economies' don't get in the way of the important things: playability and sound.
BUY: Taylor GS Mini currently available from:
UK: Andertons Music
USA: Sweetwater
FR: Michenaud | Star's Music | Woodbrass