The guitars of Download festival 2010
15th Jun 2010 | 15:30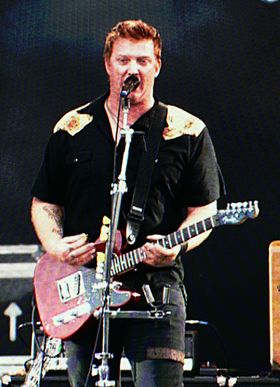 Josh Homme (Them Crooked Vultures)
The head Crooked Vulture and his band played a jam-filled set before AC/DC on the opening day of the festival (Friday). Here he's playing an American Telecaster (he told us in issue 326 that he uses 0.010-0.050 strings on his Teles).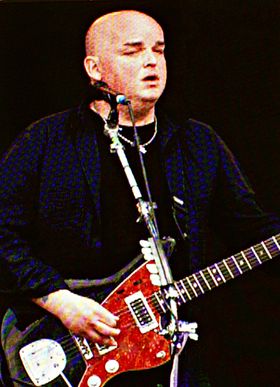 Al Johannes (Them Crooked Vultures)
Here's Josh's guitar partner in crime, and the unsung hero of the Vultures, Al Johannes with his 1968 Fender Jazzmaster.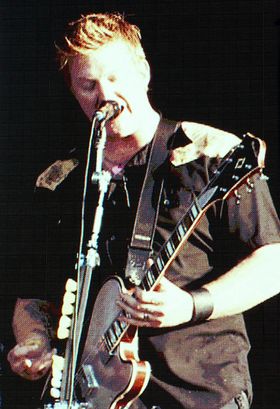 Josh Homme (Them Crooked Vultures)
Josh Homme with his drop-A tuned (AAEADG) MotorAve BelAire.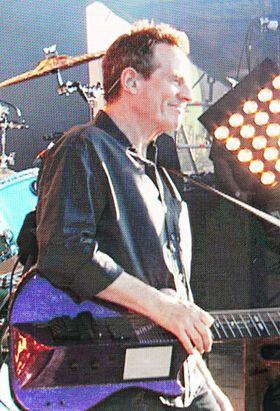 John Paul Jones (Them Crooked Vultures)
John Paul Jones certainly likes the unusual when he approaches luthier Hugh Manson to build his instruments to use with Them Crooked Vultures – This Purple Beast is a bass lap-steel with integrated MIDI screen.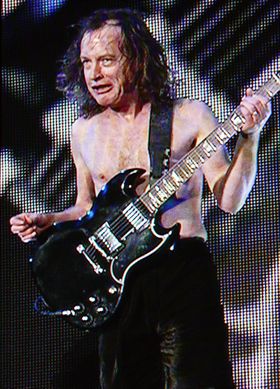 Angus Young (AC/DC)
Friday headliners AC/DC had their own stage built just for their set, but they delivered the goods as expected. Here Angus is in devilish mode with a '61 reissue Gibson SG that's become a favourite of his on the Black Ice tour.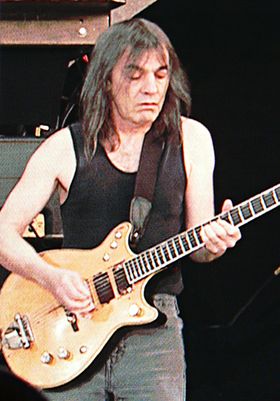 Malcolm Young (AC/DC)
Malcolm Young - the almighty riff machine – with his original trusted Gretsch Duo Jet with stripped down finish (it was originally red).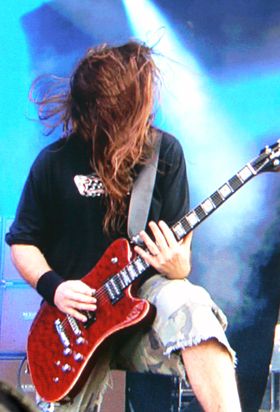 Mark Morton (Lamb Of God)
When Lamb Of God surfaced on the Saturday they blew away every other main stage band that preceded them with a savage selection of chops. Mark Morton's using his chambered-body Jackson Dominion signature here. It has coil taps on the pickups but Mark rarely uses them with the band.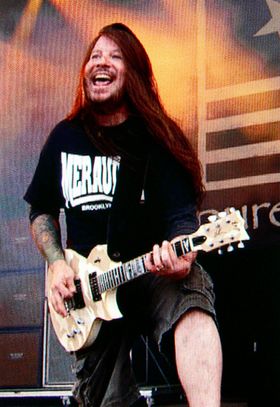 Willie Adler (Lamb Of God)
His Lamb Of God partner Willie Adler always looks like he's having the time of his life, despite the highly menacing sound of his complex riffs. He opts for EMGs in his ESP BC signature model.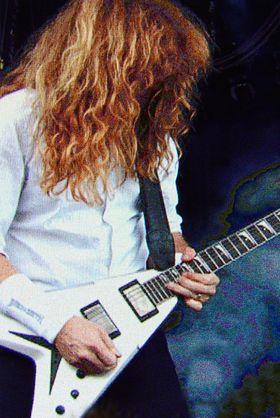 Dave Mustaine (Megadeth)
On the Saturday the first classic metal band of the weekend surfaced and we saw that it was good – Megadeth aired a set nearly half-filled with songs from their 1990 Rust In Peace album. Dave was playing a signature Dean Vehement.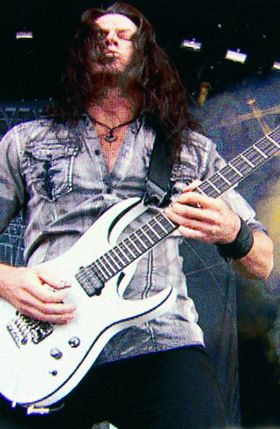 Chris Broderick (Megadeth)
For Megadeth's technically demanding guitar parts, the band need a lead player who can step up to the challenge. And Former Jag Panzer and Nervermore guitar Chris Broderick certainly did that with his custom transparent white Ibanez seven-string. Best technician in the band since Marty Friedman? We think so.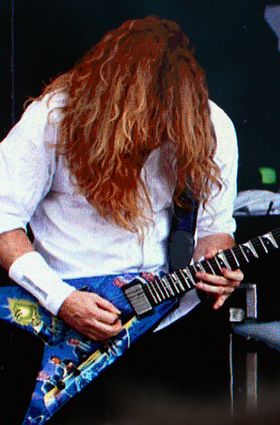 Dave Mustaine (Megadeth)
When Megadeth broke into the masterclass thrash of Holy Wars… The Punishment Due, Dave rightly pulled his Vehement Rust In Peace off the rack.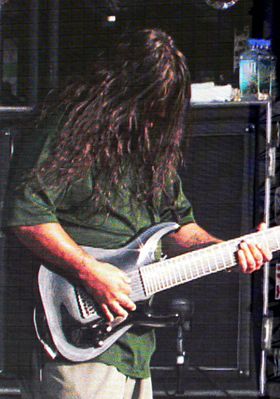 Stephen Carpenter (Deftones)
Deftones Stephen Carpenter was previously renowned for his seven-string shenanigans. But since discovering Meshuggah he's taken a liking to eight-string baritone heaviness. He was using his signature ESP 608B on the Saturday. That neck looks like a handful!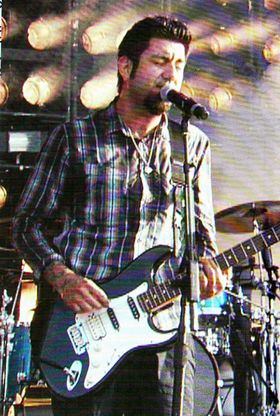 Chino Moreno (Deftones)
Deftones singer Chino Moreno also took on guitar duty for a few songs in their set, here with a humbucker-loaded Strat.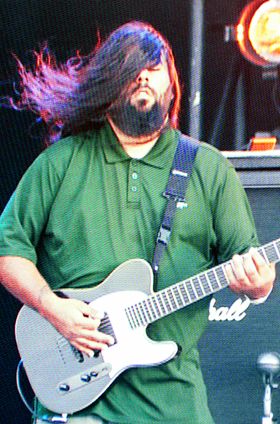 Stephen Carpenter (Deftones)
Stephen was back to a seven-string ESP for older Deftones material from the White Pony album – this is a custom model. He also has one in white.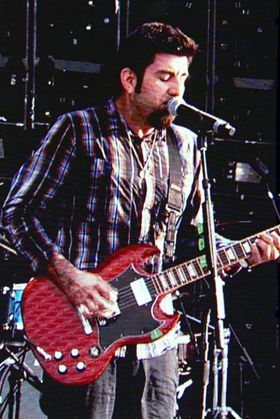 Chino Moreno (Deftones)
Here's Chino again, this time he's switched to a Gibson SG Standard.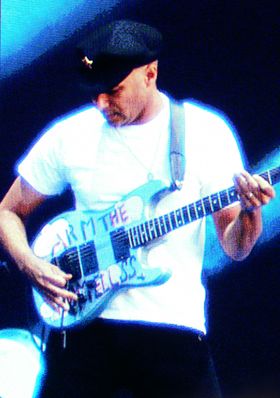 Tom Morello (Rage Against The Machine)
After Deftones it was time for Saturday's headliners, an incendiary set from Rage Against The Machine and an interesting array of guitars in the hands of the ever-innovative Tom Morello. First up; his trusty Arm The Homeless mongrel.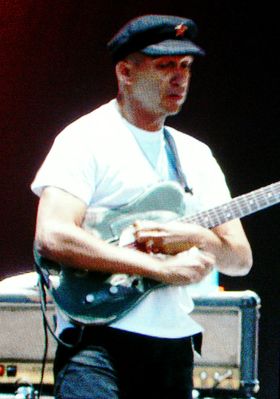 Tom Morello (Rage Against The Machine)
A recent Morello acquisition, this Trussart Holey Steelcaster in military finish is being put through it's paces. We want a Steelcaster. Badly.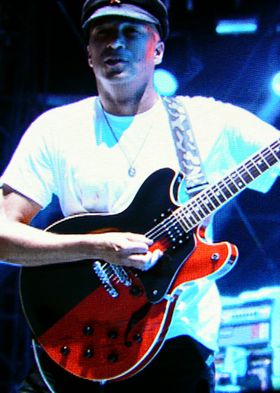 Tom Morello (Rage Against The Machine)
We're liking the finish on Morello's Ibanez Artstar but that's not the only striking element about this guitar: it has onboard wah, echo, distortion and treble/bass boost effects.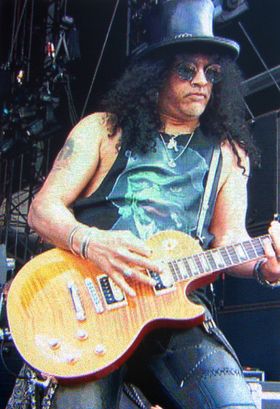 Slash
It was a close race but our favourite set of the weekend was Slash on the Sunday. Vocalist Myles Kennedy tackled Guns N' Roses classics like Night Train, Sweet Child O' Mine and the rarely aired Rocket Queen with spectacular style. And Slash? He sounds in peak condition at the moment, and the tone of his Gibson signature Les Paul and Marshall combination was positively righteous.
There were wonderful sights and sounds galore at the Download festival 2010 but Guitarist was looking for only thing – what guitars the major players were using. See our photo gallery to find out.