Save 40% when you subscribe to Guitarist
16th Jan 2013 | 09:08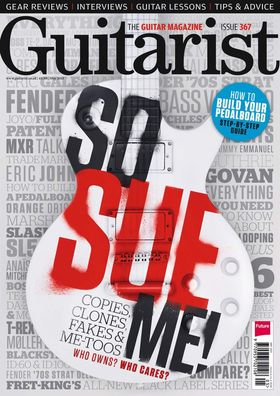 Subscribe to Guitarist in the UK Today and we'll give you a 40% discount! That's 13 issues a year delivered free to your door, often a week before it's on sale, for £21.49 every 6 months. Subscribe today and never miss an issue again!
Subscribe to Guitarist in the UK and get a 40% discount!
Take advantage of this special subscription offer and look forward to receiving every issue of Guitarist delivered free to your door – often days before it's available in the shops - for 40% less than the cover price!
This month's issue tells you all there is to know about clones, copies, fakes and me-toos? Do we care? What's the real difference between expensive gear and its more affordable equivalents? Plus Guthrie Govan giving you a lesson; Creative looping; and over 20 new products reviewed and rated!
Don't miss out! Subscribe to Guitarist today
Offer ends:31stMay 2013
The above offer is for new UK subscribers to the print edition only. However, readers outside of the UK can still subscribe and save with Guitarist in print or with our Digital Edition on iPad.