Gibson Unveil Buckethead Signature Les Paul
16th Nov 2009 | 10:25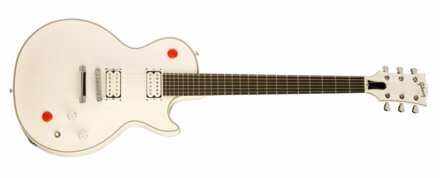 Now that's what we call a signature model.
Laugh at the KFC container he wears, snigger at the rumours of him living in a studio-based chicken coup during his stint with Guns N' Roses, but there's one thing that is undeniable – Buckethead is a seriously talented guitarist.
And now Gibson has at last unveiled his signature Les Paul.
It's a stunning alpine white finish but there's some unique selling points than that to get excited about:
Two – yes TWO! – arcade-style red killswitches. Buckethead likes killswitches, you'd never guess would you.Oversized chambered body and oversized headstockGibson state a 27-inch scale length for this model!Marker-less ebony fretboard with 24 fretsSingle tone and volume controls
And it's all yours for $4,311
More info:
www.gibson.com