Gary Moore: A Guitarist magazine tribute
7th Feb 2011 | 11:05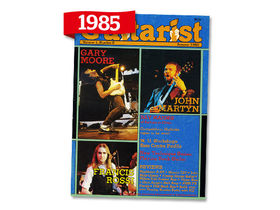 Gary Moore: A Guitarist magazine tribute
"I'm not as a studied, technically, as you might think. My technique has really evolved naturally over the years from watching other guitarists and trying to develop my own style."
It's only our second issue and Gary's already made the cover. He was a Strat, Hamer Explorer and Ibanez Roadster user then, and still writing what would be his breakthrough Under Cover album.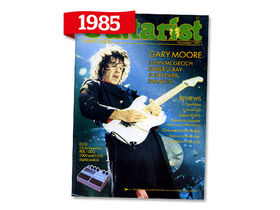 Gary Moore: A Guitarist magazine tribute
"I've been to concerts where I have reacted to someone's playing in the way my audiences react at those times. I get very emotional about it and it's difficult for me to be objective because I'm in front of the notes, so to speak. I'm putting as much into it as they're receiving, I hope!"
Early Autumn in 1985 and Gary is riding high with the Run For Cover album. He's playing a mongrel Charvel with Floyd Rose made up of a few of his old ones and getting to grips with an elaborate Quark effects rack.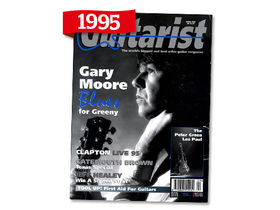 Gary Moore: A Guitarist magazine tribute
"It was like going back to the old roots again because I felt that in a blues sense I'd drifted away very much from the essence of what I started to do when I did Still Got The Blues… I've gone right back to that very bare feeling"
Gary's blues is evolving back to the future with a tribute to his hero Peter Green – the man who once gave a young Gary his famous 1959 Les Paul. Guitarist joins him in the studio for an exclusive preview of his Blues For Greeny album.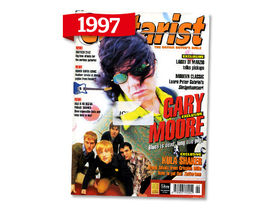 Gary Moore: A Guitarist magazine tribute
"The rhythmic feel of Dark Days In Paradise is completely different to anything I've ever done before. There's a lot of drum loops on there, but used in conjunction with real drums: a lot of influence from hip-hop and dance music, with the keyboard sound and sequencing."
Brave experiments can split a fanbase, and so it was with Gary's Dark Days In Paradise album. But it proved he was a guitarist willing to take a risk, even if it ultimately guided him back to his true passion for the blues.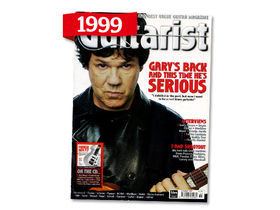 Gary Moore: A Guitarist magazine tribute
"I really want to concentrate of the blues again and do it properly, which is something I feel I didn't do before."
Gary's got an eye on a future devoted to his true love of the blues. He's using an Gibson 335 more as a reflection of this. Here he casts an analytical and nostalgic eye over the legacy of the genre with, then Guitarist editor, Neville Marten.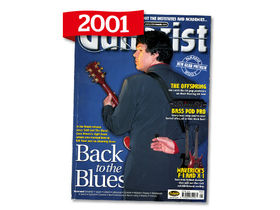 Gary Moore: A Guitarist magazine tribute
"I wouldn't have been able to do it if I hadn't gone away, had a good look at it and come back from a different angle… Everybody seems to like it this time and it was a great record to make."
With the experimentation of the past behind him, Gary's ES-335 takes centre stage on the Back To The Blues album – a reappraisal of his blues approach with one of his finest performances, one that looks firmly back to traditions.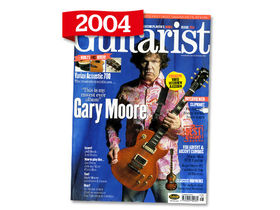 Gary Moore: A Guitarist magazine tribute
"A great solo is only any good in the context of a good song: if it's a shit song, a great guitar solo isn't going to make it any better."
Gary and, now Guitar Techniques editor, Neville Marten hold another blues summit. Following on from his more rock-based Scars project, Gary's new aggressive power trio features Bob Daisley (Ozzy Osbourne, Rainbow) back on bass for the Power Of The Blues album. Gary's mainly a Les Paul player now with his own signature model.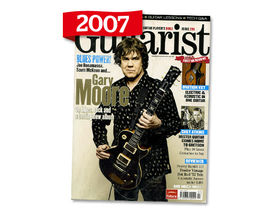 Gary Moore: A Guitarist magazine tribute
"A decision I made was that I wasn't going to use any pedals. I had this thing in my head: guitar, amp, me and the songs… I think I'm the most expressive I've ever been and that's the most important thing."
Gary bares his soul about the Close As You Get album, not the return to rock some expected but one that finds him growing older and further into his blues with natural ease. A stripped down and frequently more laid-back approach in employed, and Gary confides to Guitarist that "I'm not a rock guitarist any more: I play blues."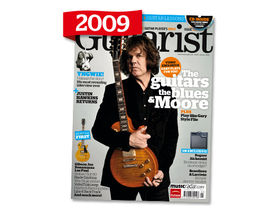 Gary Moore: A Guitarist magazine tribute
"The blues needs to be everything to you otherwise it's not going to come across. That's what I think."
Neville Marten's last meeting with Gary finds them discussing Gary's Bad For You Baby album, track-by-track, and Gary's playing philosophy for what we now know was his final studio release during his lifetime.