Comment accorder une basse ?
27th Feb 2013 | 00:06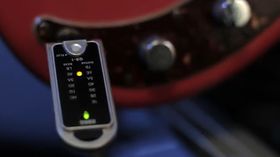 Dans le deuxième volet de notre leçon consacrée aux fondamentaux de la basse, on vous apprendra tout ce qu'il vous faut savoir sur l'accordage.
BASS EXPO 2013 Dans le deuxième volet de nos leçons vidéo intitulées 'Comment jouer de la basse', Ben Jones, prof à la London's Contemporary Music Performance School de Londres, The Institute, vous montre comment accorder une basse à l'oreille. Un talent important qui constitue une première étape vers la formation de votre oreille musicale, et vous évite d'être complètement dépendant de votre accordeur.

Concernant l'Institut
The Institute of Contemporary Music Performance est considéré par beaucoup comme l'une des plus importantes écoles d'Europe en matière de musique contemporaine. Situé à Londres et créé il y a plus d'un quart de siècle, l'Institut a élaboré et enseigné des cours aux étudiants en musique contemporaine depuis plus longtemps qu'aucune autre école du Royaume-Uni.
Jetez un oeil sur leur équipement de classe internationale et les cours de basse disponibles à The Institute.