Elektron unveils Analog Keys synth
25th Nov 2013 | 09:01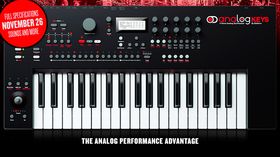 Elektron has previewed the Analog Keys, a new synth that appears to share similarities with (but isn't just a keyboard version of) its existing Analog Four
Elektron has previewed the Analog Keys, a new synth that appears to share similarities with (but isn't just a keyboard version of) its existing Analog Four.
Showcased at an event in Berlin at the weekend, the Analog Keys looks to be polyphonic and offers a step sequencer, joystick control and (very important this) lights above every key that shine when each one is pressed.
We'll be getting full specs on 26 November - at present there's just a teaser shot on the Elektron website - so for now, check out DE:BUG's video from the launch event above.
(Via Create Digital Music)