Subscribe to Computer Music this Christmas and save a massive 40%!
26th Nov 2008 | 10:50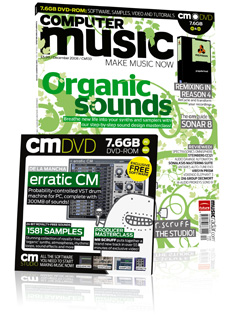 A subscription to
Computer Music
is the perfect gift that lasts all year! Why not treat yourself or somebody else to a year's worth of CM? Or indeed, put it on your Christmas wish list and have Father Christmas pick up the bill instead!
Why subscribe?
- You save 40% off the UK shop price – that's over £2.39 off each copy!
- You get a packed DVD-ROM every issue
- You get FREE delivery direct to your door and so never miss an issue
Ordering is easy – just point your browser at
www.myfavouritemagazines.co.uk/Z514
or call our hotline on 0844 848 2852 (quoting code Z514 to receive this offer)